WELCOME TO THE LINCOLN HEIGHTS NEIGHBORHOOD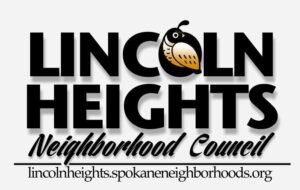 Meetings are usually (pre-COVID) held at 6:00 PM, on the third Thursday of odd-numbered month, at the Southside Senior and Activity Center, 27th & Ray.  To be included in the Chairperson's emails on neighborhood issues, email: Carol Tomsic carol_tomsic@yahoo.com
Bylaw Change was approved at January 2021 meeting.  Updated bylaws here: Bylaws (approved Jan 2021)
Lincoln Heights District Center Master Plan can be viewed here: https://my.spokanecity.org/projects/lincoln-heights-district-center/.
City of Spokane's neighborhood cleanup program this year is to distribute free dump passes.  The site to order a dump pass (https://my.spokanecity.org/neighborhoods/programs/clean-up/) will be up on about May 15th.
Minutes from recent meetings are posted below:
See our Documents tab for earlier minutes.
LHNC meetings are every other month: Jan, Mar, May, Jul, Sept, Nov, on the 3rd Tuesday of the month.