WELCOME TO THE LINCOLN HEIGHTS NEIGHBORHOOD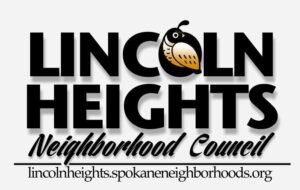 The next Lincoln Heights Neighborhood Council meeting will be at the Southside Senior and Community Center, 27th & Ray, on March 21 2023. 6 PM.  Under discussion: forming Park Friends groups; annual curbside trash removal; City Council updates; new location for Lincoln Heights COPS shop.
City of Spokane has FREE $25 trash disposal passes available to residents.  Details are at:
Disposal pass information.
Addiionally, Lincoln Heights will have a free curbside trash pickup on May 10-11th.  This is an opportunity for households to dispose of a couple large items that won't fit in a trash can – mattress/box springs, bbq, etc.  Residents will receive a postcard in the mail with details.
Minutes from recent meetings are posted below:
See our Documents tab for earlier minutes.
LHNC meetings are held live every other month: Jan, Mar, May, Jul, Sept, Nov, on the 3rd Tuesday of the month.  On alternate months, the Council meets via Zoom.