WELCOME TO THE LINCOLN HEIGHTS NEIGHBORHOOD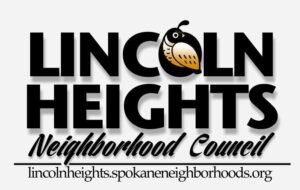 The next Lincoln Heights Neighborhood Council meeting will be on July 19, 2022 at 6:00 PM. in person at Southside Senior and Activity Center, 27th & Ray.
New The 2022 Neighborhood Clean-up Program has started.  Disposal passes, worth $25, can be requested on-line or at a local COPS shop, and will be available throughout the year, until all funds are expended.  Look for details here: https://my.spokanecity.org/neighborhoods/programs/clean-up/  .  While you are on the site, check out the Waste Disposal Guide, which provides help on how to classify items as garbage, hazardous waste, recycle items, and clean green.
Bylaw Change was approved at January 2021 meeting.  Updated bylaws here: Bylaws (approved Jan 2021)
Lincoln Heights District Center Master Plan can be viewed here: https://my.spokanecity.org/projects/lincoln-heights-district-center/.
Minutes from recent meetings are posted below:
See our Documents tab for earlier minutes.
LHNC meetings are every other month: Jan, Mar, May, Jul, Sept, Nov, on the 3rd Tuesday of the month.