WELCOME TO THE LINCOLN HEIGHTS NEIGHBORHOOD.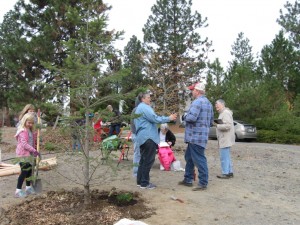 Neighbors, Lincoln Heights Garden Club, and many cute Girl Scouts planted 16 Forest Spokane trees in the 35th Ave Median, October 2015.
July 13, 5:30 – City of Spokane Design Review Board will hold a Recommendation Meeting on the proposed design for the Franklin Elementary School project.  The meeting will be in the Spokane City Council Briefing Room, lower level of City Hall.
Tuesday, Sep 20th, 7:00 PM – Lincoln Heights Neighborhood Council meeting.  At that meeting we will be discussing the business center redevelopment plan.
Due to conflicting schedules, we will not be having a July Council meeting. 
Minutes from recent meetings are posted below:
See our Documents tab for earlier minutes.
LHNC meetings are every other month: Jan, Mar, May, Jul, Sept, Nov, on the 3rd Tuesday of the month. Dump passes are usually available at each meeting.