WELCOME TO THE LINCOLN HEIGHTS NEIGHBORHOOD.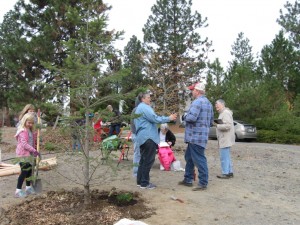 Neighbors, Lincoln Heights Garden Club, and many cute Girl Scouts planted 16 Forest Spokane trees in the 35th Ave Median, October 2015.
Applications for the City's Residential tree program are being taken.  Homeowners can get one free tree to plant on their property.  Program details here.  List of trees being offered is here.  Direct link to the signup form is here.  Deadline to register is 4/6, but trees are going fast.  Sign up right away if you are interested.
Lincoln Heights is having a special FREE curbside  garbage pickup on 4/22.  This is an opportunity to get ride of  3 large awkward items such as mattress and box springs. Maximum weight for a single item is 85 pounds.  Postcard notification will go out to LH residents a week prior to the event.
Tuesday, May 17 7:00 PM – Lincoln Heights Neighborhood Council meeting.

Minutes

from recent meetings are posted below:
Minutes from Jan 26th meeting are here: Jan 2016 minutes – DRAFT
Minutes from Sep 15th meeting are here: Sep 2015 minutes
Minutes from July 21st meeting are here:  July 2015 minutes
See our Documents tab for earlier minutes.
LHNC meetings are every other month: Jan, Mar, May, Jul, Sept, Nov, on the 3rd Tuesday of the month. Dump passes ($40 value) will be available for distribution again in Spring 2015.