WELCOME TO THE LINCOLN HEIGHTS NEIGHBORHOOD.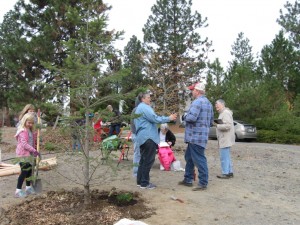 Neighbors, Lincoln Heights Garden Club, and many cute Girl Scouts planted 16 Forest Spokane trees in the 35th Ave Median, October 2015.
Saturday, Oct 1, 10:00 AM  Join the Lincoln Heights Garden Club in beautifying Froggy Pond.   Bring shovel and spade and help dig in bulbs, iris, and drought tolerant-plants in the dry corner of Froggy Pond, 32nd & Cuba.  Learn about this hidden gem in our neighborhood – a 5-acre nature tract, open to the public.  Details
Tuesday, Sep 20th, 7:00 PM – Lincoln Heights Neighborhood Council meeting.  At that meeting we will be discussing the business center redevelopment plan.  We'll also review the Council's revised 2016 Bylaws  Note: Bylaws were approved at this meeting.
Minutes from recent meetings are posted below:
See our Documents tab for earlier minutes.
LHNC meetings are every other month: Jan, Mar, May, Jul, Sept, Nov, on the 3rd Tuesday of the month. Dump passes are usually available at each meeting.