WELCOME TO THE LINCOLN HEIGHTS NEIGHBORHOOD.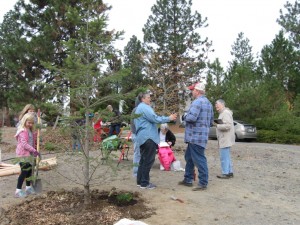 Neighbors, Lincoln Heights Garden Club, and many cute Girl Scouts planted 16 Forest Spokane trees in the 35th Ave Median.
Nov 4th and 5th – Studio Cascade led a planning workshop for Lincoln Heights District Center.  Summary from the workshop is here.
Nov 17th – Lincoln Heights Neighborhood Council meeting –

has been CANCELLED

due to inclement weather.   A makeup meeting will be scheduled soon.
  Among the topics

for discussion

:
       – Franklin Elementary remodel (tentative)
       – C.O.P.S presentation (identity theft)

Minutes

from recent meetings are posted below:
Report on Nov 20th, 2013 District Center Planning Workshop here: spokaneplanning.org (Scroll down to Lincoln Heights District Center – see survey link).
LHNC meetings are every other month: Jan, Mar, May, Jul, Sept, Nov, on the 3rd Tuesday of the month. Dump passes ($40 value) will be available for distribution again in Spring 2015.